1080P Mini Home Projector
Regular price $ 159.88 USD $ 65.88 USD 59% OFF
Movie theatre prices are at an all-time high! You pay for tickets, popcorn, drinks, gas and more. By the time you leave, your wallet might be empty! Now you can get an awesome movie projector theatre experience at home!

Finally, the Best Projector HD 1080P that has some cool features, make it a top choice for all types of home theatres as well and it's great for your home cinema needs.
For those of you looking for something truly unique, a tiny, portable projector tv turns your living room into a full-blown home theatre with an image up to 220 inches diagonally! Its jaw-dropping resolution is perfect for movies, gaming and even suitable for business presentations!
There has never been a better time to create your own home theatre than now, and the centrepiece of the best buy projector. 

  Bright & Vibrant: 1000 Lumens, accurate colours, rich contrast with deep blacks and bright whites, even in rooms, which aren't completely dark.

 Fully Compatible: Our device can plug into your laptop, Roku, Apple TV, Amazon Fire, iPhone or video game console with an HDMI or USB cable. For best video play and resolution, we recommend HDMI. For use with an iPhone or mobile phone, simply use a lightning to HDMI cable.
  True Best Home Theater Projector Experience: Screen Ratio 4:3 with 1080P HD definition. The tv projector supports a resolution up to 1920 x 1080 quality.
Built-In Speaker: Internal sound can be used or external audio sources, such as a soundbar or speakers.
  Never Die Lamp: 30,000 hours of lamp life
A MINI DEVICE FOR BIG MOVIE NIGHTS
Watch your favourite movies/shows anytime, anywhere! Best Mini Projector's innovative system connects easily to all of your devices and is small enough to fit perfectly in your pocket.
BUILD YOUR OWN THEATER ANYWHERE
The HD Video Projector is a complete and portable best home projector entertainment system with built-in speakers and an upgraded LED technology that displays clear and sharp images and puts less stress on the eyes than a standard backlight screen. Its compact form factor allows you to carry it everywhere you go!
🔹 LEVEL UP FAMILY MOVIE NIGHTS
🔹 WATCH IN THE COMFORT OF YOUR OWN BED
🔹 OUTDOOR CAMPING TRIPS
🔹 KEEP KIDS ENTERTAINED
🔹 PERFECT FOR TRAVEL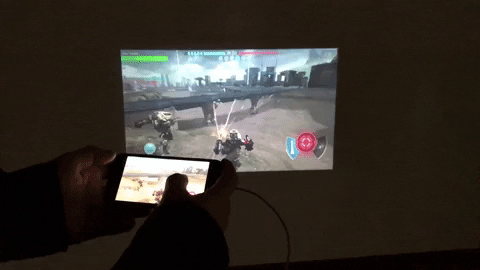 Love to play games on a large screen?
There's no need to buy a large screen TV if you have a blank wall and the gaming projector. With its short-throw lens, you can project an image up to 220 inches from four feet away.

It has a native resolution of 1080p and brightness of 1,000 lumens you will enjoy games.
✅ Compact & Portable: 5 x 3.4 x 1.8 inches and 6oz (12.7 x 8.6 x 4.6 cm and 170gm).
✅ 
Projection Distance: 0.8 - 2 m.
✅ Outdoor use: Can be powered from just a power bank. Perfect for camping, business meeting and travels.
✅ Harmless LED light: The American Bridgelux LED light is harmless for the eye and has a very small power consumption.
1x Mini Projector, 1x Power Adaptor, 1x 3.5mm to RCA AV cable, 1x Remote Control, 1x User Manual.

people are currently looking at this product
Estimated delivery time 14-30 days